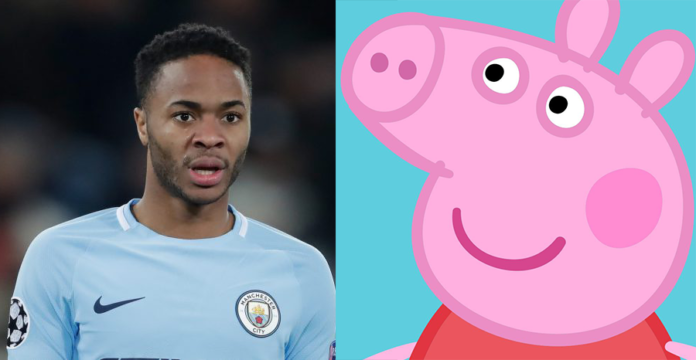 Successful, wealthy, young footballer, Raheem Sterling has today been dropped from England's World Cup squad after unveiling a tattoo of Peppa Pig dangerously close to his navel.
The talented Sterling revealed the controversial tattoo with a picture on his instagram account accompanied by the caption: "Much luv to lil peppa ❤️❤️❤️?"
Sterling, who has just enjoyed the most productive season in his career and to whom much of England's hopes rest upon, had hoped his Peppa Pig tattoo would help temper the controversy from a gun tattoo he revealed earlier in the week.
However, his latest swine inspired ink seems to have backfired spectacularly, adding to an obscene list of gaffes including; daring to eat breakfast, not washing his car and flying on a budget online. Rightfully, condemnation was as swift as it was brutal with UK tabloids piling in on the Grenfell Tower donating Sterling, forcing the FA to act.
"The gun was one thing, but a tattoo of a cartoon pig is sinking to a whole new level," said Daily Mail 'journalist' Trevor Thickett. "What if Sterling scores a goal in Russia and whips off his top revealing this disgraceful, oinking tattoo to a global audience? Kids will be watching, and they will think that it's suddenly ok to laugh at all the pigs that have fallen victim to foot and mouth disease. If I had it my way we would skewer him on a spit roast, but I guess we'll have to settle for crushing his dreams of leading England to glory."
Though it appears that Sterling's hope of featuring in Russia are now over, Three Lions manager Gareth Southgate has left the door slightly ajar. Sources within the England camp revealed hearing Southgate say that should Sterling have the offending tattoo seared off with a cattle brand using no anaesthesia, he would consider putting him back on the plane to Russia.