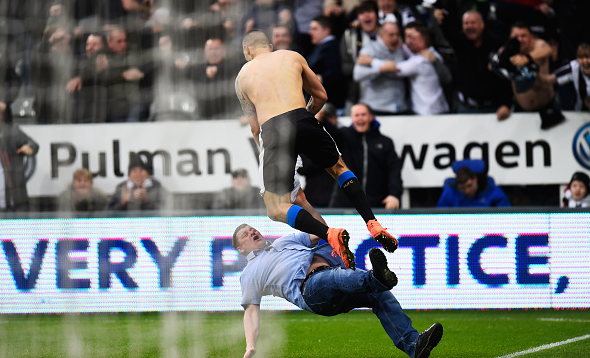 Rafa Benitez' arrival at St James has had quite an effect on the Toon army's general abilities to stay on their feet.
— Sports Wankers (@SportsWankers) 19 March 2016
Following Mitrovic's crucial equaliser in the Tyne-Wear derby, one Newcastle fan decided he would join the celebrations by giving the striker a big 'ol hug after invading the pitch.
Clearly, The fan had not coordinated the celebration with Mitrovic before hand though, (a school boy error by my book) which resulted in a complete cock-up with the fan slipping on his arse.
Celebration of the weekend goes to Mitrovic and this Newcastle fan. pic.twitter.com/PamkbNMC81

— BenchWarmers (@BeWarmers) 20 March 2016