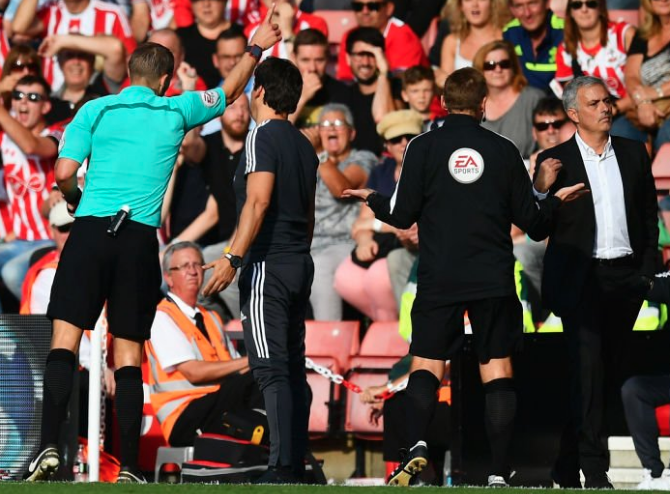 Jose Mourinho was sent to the stands during Manchester United's 1-0 win over Southampton on Saturday, but the manager refused to make his way down the tunnel until he had shaken hands with every single one of the 31,930 in attendance at St Mary's.
Mourinho was given his marching orders late on after making the grave decision to abandon his technical area and encroach onto the pitch. However, Mourinho, well known for his polite manners and insistence on pleasantries, was not about to be robbed of the opportunity to grasp hands and make a spectacle of himself. Instead, making sure he didn't miss a single soul, Mourinho painstakingly made his way around the entire stadium earnestly shaking hands with both sets of fans, match stewards and even the guys way up in the commentary box.
This is not the first time Mourinho has been sent off, having also been sent to the stands against Burnley and West Ham last season. However, keen to learn his lessons from those previous experience, this was the first time Mourinho managed to conduct such an exhaustive handshaking routine.
Speaking after the game, and clearly tired from all the handshaking, Mourinho barely had enough energy to muster an explanation for his actions. "Craig Pawson [the referee] told me to leave, so I left," he said humbly.
Later on, in a statement released by United, a spokesperson was at pains to insist Mourinho's shaking hands with thousands of people was just part of the managers kind nature, and was in no way a ploy to waste time as Southampton searched for a late equaliser.