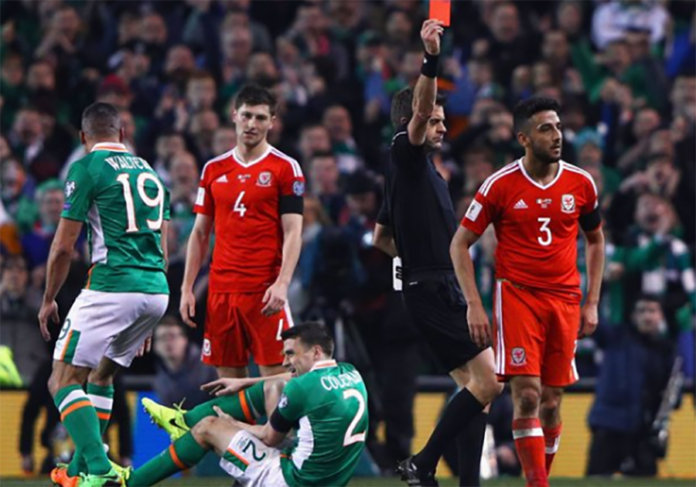 Wales only managed to break Seamus Coleman's leg during an ill-tempered 0-0 World Cup qualifier with Ireland on Friday evening, despite Gareth Bale's best efforts to join his team-mate Neil Taylor, and get in on the gory act.
Before the game, it was Ireland assistant coach Roy Keane talking up the use of violent tactics, but it was Wales that seemed to be inspired by the words. First, Gareth Bale left a studs impression on John O'shea's shin. Then, moments later, following his captains example, Neil Taylor went one further and lunged in with a stomach churning horror tackle on Seamus Coleman before rightly being shown a straight red.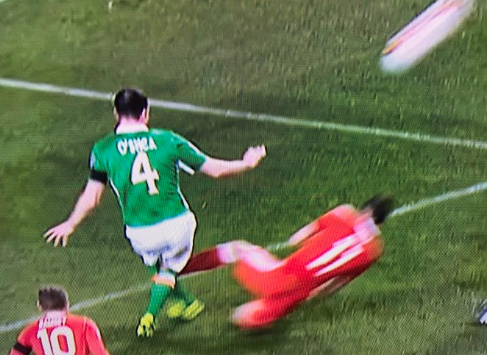 Full of sympathy after the match, Wales manager Chris Coleman was keen to give an update on his traumatised player.
"Neil Taylor is devastated. It's not going to make Séamus feel any better but Neil is not that type of player," shrugged Coleman before adding "Your boys weren't coming off with halos on their heads," after accusations from the Irish press that Bale should have also received a red card.
Seamus Coleman, now set for a long spell on the treatment table, joins the other couple of hundred Irish players already on the injured list.