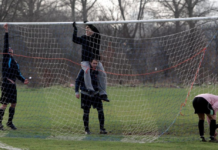 A stingy Sunday League player by the name of Willy Evapay, has finally agreed to cough up and start paying his subs money after...
Reprise de volée coup du foulard de l'extérieur de la surface ! pic.twitter.com/kWpouAohsl— Footballogue (@Footballogue) October 10, 2015
Foot like a traction engine!! Well, earlier in the week we shared a stunning free kick from a Hungary Sunday League side. Today it's the...