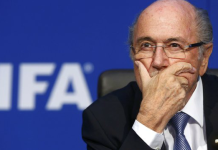 />Swiss prosecutors open a criminal investigation against Sepp Blatter, the head of the world football body Fifa.Source: Fifa: Sepp Blatter faces criminal investigation -...
FIFA Reform Commissioner Defends Blatter, Calls Soccer in U.S. "An Ethnic Sport for Girls in School" | VICE Sports.
halle -fucking- lujah!!!! Finally, this afternoon in FIFA's underground bunker Sepp Blatter has announced his resignation as FIFA president amid a corruption scandal that has...
If you haven't seen the first time John Oliver ripped into Sepp Blatter it's well worth a viewing. Watch it here.