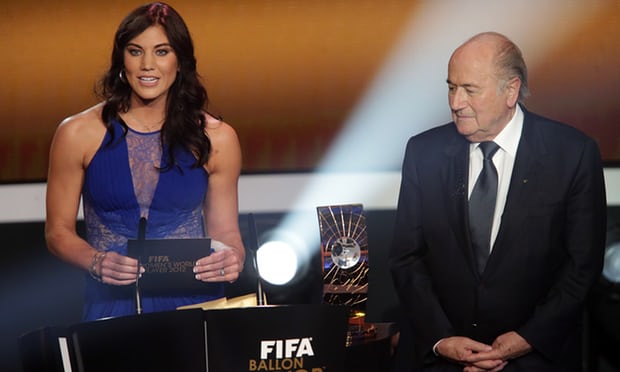 Disgraced former FIFA president Sepp Blatter has brushed aside allegations of sexual assault made by Hope Solo, by claiming the whole matter will be quickly cleared up with a simple handshake between the pair.
USA women's keeper Solo claimed that the 81-year-old Blatter grabbed a handful of her backside just as she was about walk on stage to present an award at FIFA's Ballon d'Or ceremony in 2013.
Blatter, the "godfather of women's football," as he is affectionately known by no one but himself, released a statement via his spokesman claiming that it was ridiculous that a man who has previous suggested women footballers wear tighter shorts, could ever be the sort of man to cop a sly feel.
"Whatever happens behind a curtain back stage at an awards ceremony is forgotten as soon as the show is over. This was an awards ceremony. The Ballon d'Or awards ceremony. And at the end of the Ballon d'Or, we shake hands," said a dismissive Blatter.
Blatter went on to add that sexism doesn't exist in football so it was therefore physically impossible that he could have sexual assaulted Solo in the first place.