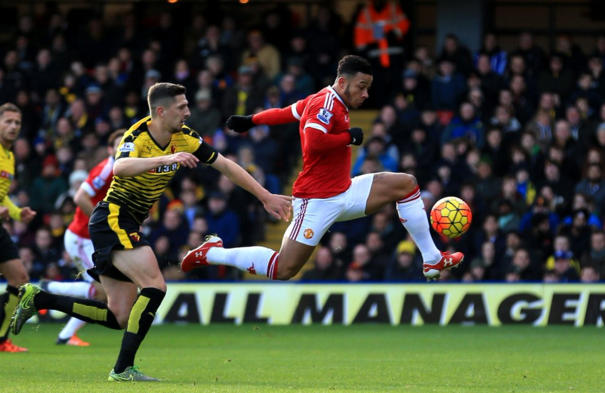 Well that all felt very familiar didn't it? A high profile player brought back into the squad after being put on the naughty step for a few weeks scores the opening goal. Manchester United grab a late winner moments after being pegged back for what looked like a game heading for a draw. Manchester United sitting top of the pile – albeit with the rest of the pack yet to play.
Before the Premier League's opening game of the day between Watford and Man United kicked off, La Marseillaise rang out around Vicarage Road as a tribute to victims of the Paris attacks.
French national anthem being played at Vicarage Road before kick-off #mufc #watfordfc pic.twitter.com/Lr41LMlwAE

— Tom Allnutt (@tomallnuttPA) November 21, 2015
Both sets of players stand together united, including a solemn looking Watford mascot. If there is a both sadder and more ridiculous sight in football than a mascot mournfully bowing it's head, I'm yet to have seen it.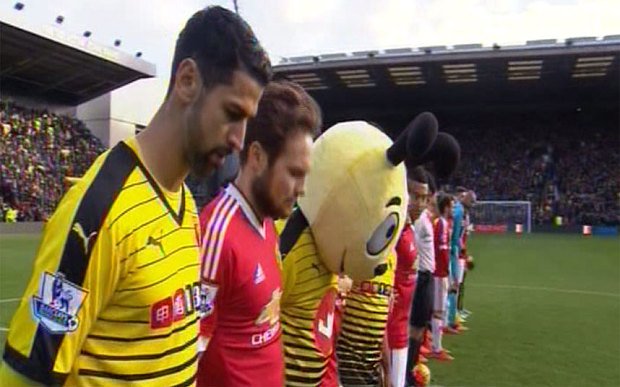 With both Wayne Rooney and Anthony Martial absent due to sickness and injury, the expensive delegator Louis van Gaal was forced into going with a false number 9 formation which soon paid dividends after Memphis Depay stole in between the Watford defence to volley home a wonderfully guided cross from the boot of Ander Herrera.
Former United player Craig Cathcart covers his face with his hands as well he might, having just seen Depay and those sideburns wheel off in celebration after the opening goal. Lets take a closer look at those chops.

Marvellous stuff Memphis.
As half time came and went, United reached a remarkable 10 hours of football without conceding a goal, but had the heroics of David De Gea to thanks as he twice thwarted Watford captain Troy Deeney as well as making a superb reflex save to deny Abdi's deflected shot which was heading for the bottom corner.
However, their was little De Gea could do about Deeney's penalty which was emphatically hammered home in the 87th minute, as Watford looked to have doggedly rescued a point.
Jubilant hero….(That mascot really wants to steal the lime light doesn't it?)
……To unfortunate zero in the space of four minutes as Deeney inadvertently turns Bastian Schweinsteiger shot into his own net to hand United the win.
'Injured' Ander Herrera, who went off in the second half with what looked like a hamstring pull, celebrates United's winner like a maniac.